We cannot wait for the signs of cherry blossoms.  How is everyone?  Following the Pyeongchang Olympic Games, Paralympic Games are also exciting. 
 On the 15th of every month, we present a JATO member who is active worldwide in the relay format on our Facebook page (@jato1996) and in blog column on JATO official website.
Last month we introduced Dr. Shinobu Nishimura, an associate professor of marketing course at Toyo University School of Business, who also was the team manager and the head coach of a football team.  This month we are pleased to present Dr. Saori Yoshida.  Please enjoy her story with the full of love for Athletic Trainer, everyone!
--- Please tell us how you started to be an Athletic Trainer ---
 I experienced many injuries during high school and it led me to "supporting athletes" when I start thinking about what I want to do for my future.  Back then, the word called "(athletic) trainer" was not widely recognized yet so I thought of PE.  I went to the Tokai University and majored physical education.
 While none of the athletic programs had "student trainers" at that time, I learned there was a professional trainer (Kei Aso, ATC) working for the football team so I applied for joining the program.  At the entrance guidance, they told me that it was no easy way to be in the program as a student trainer.  After a month of internship period though, I got accepted to join the Tokai Football program.
 At Football, I was influenced a lot by Aso and the head coach Nakazawa.  I had chances to go on the trip to Arizona with a football team, to the cheerleading exhibition at Disney World, and at Foothill College in California.  I had the opportunity to be on the internship program under the supervision of Gary Lang during summer.  In two years at Tokai University, I was able to go to the US three times for total.  I got to know of "athletic training" in the US and realized that "This is what I want to do!".  I quit Tokai University after two years and transferred to the University of Nebraska at Omaha (UNO).
 Based on my own experiences, I am running an overseas training program every other year for my students at Tokoha University.  Coincidently, I am taking this interview at the café nearby Disney World in Florida waiting for my students who have fun after visiting UNO.  It means a lot to me being here and looking back when I was here 20 years ago.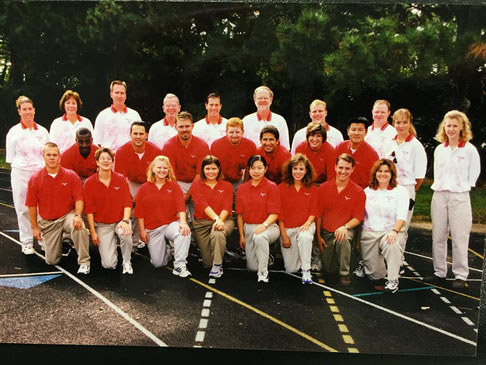 ---Did you have the hard time when you were in the US?  If so, when? –
 I would say it was my entire time as a GA at Central Michigan University.  I majored Athletic Administration and it made me difficult to learn the new area of study such as sports law.  Even if I used a dictionary, I did not understand legal terms in Japanese meanings.  I quickly had a Japanese dictionary of legal terms sent from home but still, I did not really understand after all.
 Not only on the academic, but also because I worked for women's soccer and men's and women's track & field, my day was packed.  Practice in early mornings, rehabs in-between classes, another team practice in the afternoon and graduate classes in the evening.  I am on campus between 6 am and 9 pm and I was on road trips every weekend.  I often felt exhausted.  It was those two years though I shared the house with friends from Sports Medicine and had a blast.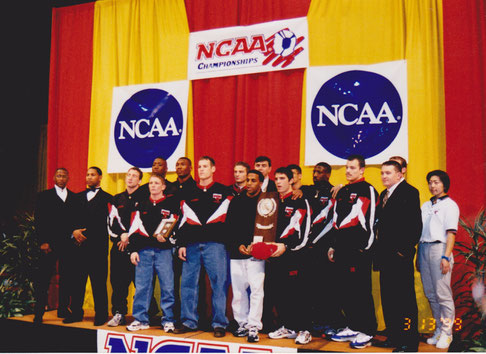 ---What were the best memories in the US?---
 There are so many memorable things but I will introduce three of them. 
 For one, when I listened to America's national anthem on the sideline for the first time at our home game, a lot of mixed feelings caught up and tears welled up in my eyes.  I still get like that even now when I listen to America's national anthem.  Also, they took me on the last important road trip of the season as a reward for working hard.  The first-year student trainers were not supposed to be on so I was happy about it.
 For two, in the second year at UNO, I was with the wrestling team and we hosted Division II National Championship Tournament under the supervision of our head Athletic Trainer (Tom).  The team motto was "we are family!" and I felt exactly like so.  It was such an honor that I was welcomed as a member of the team and I got respected as a student trainer.  On the day before the National Tournament, Tom asked me "Saori, you got any suits? I will leave the final match to you so make sure you bring them!"  I was able to sit on a bench with only one seat for the athletic trainer.  Thanks to that, I experienced the joy of winning at 3 final matches and team winning with the team on the mat.
 For the last, I think it was Sunday evenings, sitting in front of my computer at the same time every week, chatting passionately with Daisuke Uematsu, the current JATO president, and some other friends.  Even though we hardly see each other, those who crossed the ocean and worked hard in the US about the same time are very special to me till now.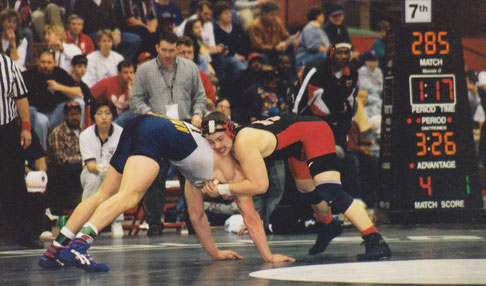 ---Please tell me from your first job in Japan to your current job---
 Fortunately, I did not have to struggle with job hunting.  I got a job from Tokai University Football team through Kei Aso ATC at my return to Japan in 2002.  I took over his position.  Besides that, I worked as a rehabilitation staff at an orthopedic clinic, university conditioning room for administration, part-time lecturer, AT for U-19 national football team and so on.
 My turning point came in 2010.  Tokoha University (formerly Hamamatsu University) was opening a position in athletic training and I got hired as a full-time faculty.  However, as a college faculty member, I was not comfortable because of my lack of research experiences and degrees.  I wanted to do research on concussion so I enrolled in Kitasato University Graduate School of Medical Sciences.  I spent several years there and finally, I will be finishing my Ph.D. this March.  I did my research on visual function for my thesis and will continue to focus on the visual and brain functions in the future as well.
 Also, around the time I became a full-time faculty with fewer hours on-field (2013) which was stressful to me, I got a job offer from Asahi Beverage Club Challengers, X-league Division I football team.  It is my 6th season this year.  I work as a conditioning coordinator managing ATs, therapists, and SC coaches.
 I supervise my students on-site practical hours (mainly baseball and T&F) as well.  Besides that, I work for a local high school baseball team (mainly training for injury prevention, self-care guidance for injury prevention, etc.).
 Finally, I am starting to be able to work for "+ α".  In collaboration with local sports physicians, PTs, and therapists, we set up a research group called "Save the back project" (adolescent low back pain, especially anesthesiologists) and also host "Hamamatsu Sports Conference" for sports people in Hamamatsu to gather information and learn from each other.  I used to look for my role in the structure such as teams and schools, but lately, I start to feel like that I am able to go beyond.-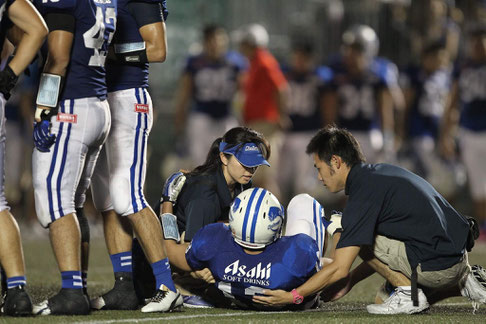 ---What is your typical day like? ---
 I stay home from 11 pm to 7 am but other than that I am outside doing things.  On weekdays, I work at the college (lectures, supervising practical hours, research, etc.), at local high schools and I engage in some community works.  On weekends, most of the time I work for a football team, support college events and attend academic meetings.  I have many things I want to do but I am not a quick worker either.  Sometimes I feel like 24 hours are not enough!
-- What is JATO like to you? - -
 Regardless of age and work experiences, I think all the JATO members are like "mentors" to me.  Each member has their goals and through how they live their lives, I am inspired and learning a lot!  I think that says it all about making me feel connected with such people.
--- Please tell us the merit of joining JATO. ---
 While studying in the US, I have attended an NATA annual convention.  There I have asked JATO board directors a very rude question.  "What kind of merit can you offer a member if I join JATO? (= What is in it for me?)"  They explained to me about member services, but also said "We are afraid that you would satisfy with joining us if you only expect some returns from us.  We would appreciate it if you could join us for enhancing the recognition of AT and improving athletic training in Japan together.  Come to think of it, that was the times Japanese ATCs pioneered in each path and finally gathered to establish JATO.  I was not aware of that and ashamed of my words and attitude asking for being given.  I think that athletic trainers are gradually recognized by cumulative efforts of JATO activities.  However, we have not yet established a solid position.  I think the more ATs gathers the more energy towards JATO and that leads to something in sports in our country.  I would like to be a part of it.
--- Any messages for Athletic Training students? ---
 I believe that both studying abroad and the process of seeking your path to becoming an AT with colleagues will be your assets.  Please do your best and open your way!  I hope we all get together and do something exciting someday, everyone!
Saori, thank you very much for taking your time while you are busy with supervising your students in Florida!  She encouraged us in the way she expands the range of activities not just at work but outside her work and how she creates new things with her vitality.  We also understood her motivation to build up things together as a member of JATO.  For next issue, we will present a male AT known as "mass of vitality" according to Saori because he always inspires her.  Please count on us and see you again in April!