How is everyone doing this winter? The 2018 Winter Olympic is the hot topic on TV and website.
We have introduced JATO member to share their stories on our Facebook and web page (Blog Column) on the 15th every month.
Last month, we had the interview with Ms. Inoue who has worked with a positive attitude in tough situations. This month, we are introducing Mr. Ohki who is an athletic trainer for a rugby team at Teikyo University and was also a classmate with Ms. Inoue. We had an interview with Mr. Ohki right after he worked the 54th Japan Collegiate Rugby Championship Final. Please enjoy!!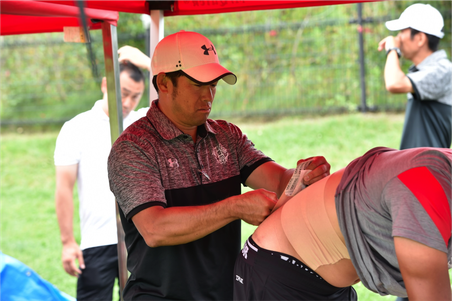 ---Can you tell us what motivated you to be an athletic trainer?---
"I got interested in athletic training when I met with a physical therapist because I got an injury on my shoulder by playing baseball in high school. He or she (I cannot remember the physical therapist's name) told me there is a profession that assists an athlete's health and performance. I like to exercise and remember I felt that it seemed good to help athletes as a profession.
---Can you tell us your best memory when you were in the United States?---
"My best memory is the homecoming football game at Western Michigan University (WMU), my alma mater. I cannot forget the feeling I had when I stood on the middle of the football field in the packed stadium during that game. I was standing on the field as an athletic training student during the game. I was overwhelmed when I looked at fans on the stands, and that is still my motive for work. Fortunately, I can experience that same feeling every year with Teikyo University Rugby team!

---Can you tell us about how you got to your current job since you came back to Japan?---
"I have worked Teikyo University Rugby team for 16 years but, it was tough before I came here. After I graduated from WMU, I worked at a clinic and a high school as an athletic trainer in a small town in Michigan. After a half year, when I finished my work at the clinic in the morning, my boss told me 'I don't need to go to the high school in the afternoon.' I felt that 'so, this is the lay-off that I often hear from the news. It really happens in the United States.' Next day, I went to an employment agency and applied for unemployment benefits. But, a week later, I returned to the same job setting as if nothing had happened. I felt that this is also something that I cannot experience in Japan.
After this incident happened, I started thinking about working in Japan, and Ms. Shizuko Inoue, ATC, my classmate at WMU, introduced me the Assistant Athletic Trainer position at Isuzu Basketball team. However, Isuzu cut the basketball program after a year, and I lost my job.
I experienced being fired and unemployed in my first two years after I was certified when I was 28 and 29 years old. But, I was not worried about that I was not a member of any organizations because I prepared for entrance exams for universities in Japan for one year after I graduated from high school. Also, another reason why I was not worried was that Dr. Shuji Suzuki, my mentor at Waseda University told me 'I am not able to be a professional until about 40 years old if I study abroad' before I went to the United States.
Fortunately, I got a position at Teikyo University Rugby team after I was hired by Mr. Chiaki Nakamura's Try Works Co., Ltd. From being fired and unemployed, I learned that 'all I can do is to do my best where I am now.' I have worked Teikyo University Rugby team for a long time, and fortunately, we ended our season with good result again this year. 'Bloom where God has planted you.' This is the words that describe my mind when I started working for Teikyo University Rugby team. Those words are the title of a book written by Ms. Kazuko Watanabe. I cannot thank enough for relationships I have with various people and affections I have got from them because I am not where I am today without them.
---Can you tell us about your current work?---
I work with Teikyo University Rugby team which is an outreach from Try Works Co., Ltd., and I cover their practices and games as a head athletic trainer. I also teach the LSFA, a CPR&AED course offered by Try Works, and the emergency care in the sport at seminars.
I got an EMT license in 2015 and have worked at Tamakyuryo Hospital in Machida-shi, Tokyo as an EMT. From last year, there were two EMTs and an ambulance from Tamakyuryo Hospital to cover Teikyo University Rugby team's official games.
---Can you tell us how your day is like?---
There are different things happened every day as there are 140 players on the team. Every day does not go with the same routine. But, I enjoy both usual days and days when something comes up. I think it is okay to mix work and private in order to enjoy both of them as long as you do not cause trouble with your work and family by mixing work and private too much.
After I wake up: taking care of his two daughters
10 am: Leaving my house
11:30 am: workout at Teikyo University Rugby team's weight room
2 pm: Setup for rugby practice
3 pm: Beginning of rugby practice
7 pm: End of rugby practice and post-practice treatment
10 pm: End of work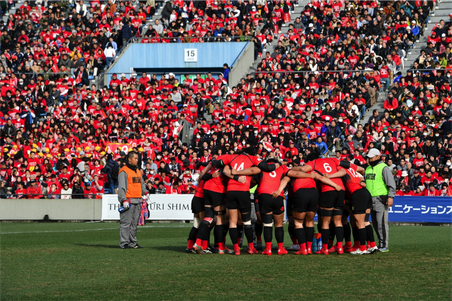 ---What does JATO mean to you?---
JATO is the place where my friends are. I think JATO members have been through both good and tough experiences in Japan and the United States. Although there are some differences in areas and ages, JATO members have similar experiences in their lives in the United States, and that makes me feel that they are my friends. Though the world is highly diverse, I feel very close to JATO members because we have at least one thing in common that every member lived in the United States.
---Can you tell us about benefits of becoming a member of JATO?---
You will feel relaxed and nostalgic when you meet with a member even it is your first time because he or she is an athletic trainer. When you work as an athletic trainer, it is necessary for developing a long career to know people who you can relate to.
When I go to the JATO Annual Meeting and Symposium or seminars for athletic trainers, I do not why but attendants seem feeling nostalgic. I guess this is because there are people at events who they can relate to regardless their genders and ages. I think many members inspire me and give me courage for work and passion.
---Can you give students who want to be an athletic trainer a message?---
I would like to tell them 'seize the day' as my message.
When you go to the United States, there are dedicated people who eager to achieve their goals from the beginning of their lives in the U.S. or there are other people who look for what they want to do once they get to the U.S. Either way, time will be spent equally with whatever person does. There are average days and special days for everyone. So, I hope you can make the best out of it every day with your hard work. Today's the United States is very different compared to when I went to the United States (late 90's). I think current and prospective students who study abroad will gain more various experiences that what we did at that time. You will go through great opportunities and opposite opportunities. I hope you will learn the culture of the United States and see people in the United States through studying athletic training.
We would like to thank Mr. Ohki for sparing his time for our interview!! Also, we would like to celebrate that Teikyo University Rugby team won their ninth straight collegiate championship. They are the best powerhouse team maybe because Mr. Ohki has created a safe and relaxed setting for the team as an athletic trainer and an EMT. Also, we thought that doing our best wherever we are today and valuing our relationship with our friends are important qualities to be an athletic trainer. Next month, we will feature the athletic trainer who is multi talented and energetic. Don't miss it!!