How is everyone doing? It will be one and half months to leave this year, it became a season when I feel cold every day. It is a time to distribute the players and your own physical condition even more.
Now, we have been introducing activities of JATO members who are active in the world as a relay format introduction project on the 15th of every month through Facebook and Homepage (Blog column).
Last month we introduced Mr. Kohichi Sato who had various experiences and this month we were able to ask and hear great stories that touched our heart from Ms. Takako Ichige, a wonderful female ATC who is full of vitality, and also works as a radio personality. Please read everyone! !
JATO Public Relations Committee

--- Please tell us what motivated you to be an Athletic Trainer (ATC) ---

"When I was preparing to go to college, my brother, who worked hard from an early age to become a professional baseball player, broke his shoulder. He entered a powerful baseball school in Yokohama from Ibaraki because of his little league,senior league, and his strong shoulder, but he could not play as he desired without having a healthy shoulder and he could not even stay on the roster when his team went to the Koshien when he was in his junior year. I was brought into the athletic training field because I was wondering if there was anything I could do for my brother who was in pain, and my parents who were doing their best to help his shoulder completely. I was not able to help my younger brother, but I strongly thought "I would like to assist young athletes who are unable to enjoy sports due to injuries from wrong training methods."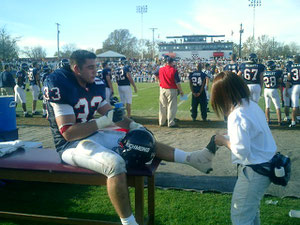 --- What is the best memories of the America when you were there? - -
"The event which left a strong impression of United States life was when I was hired as an assistant athletic trainer at a Division 1 university in the south. When I was in my fifth year working, I noticed that my salary was not being treated as fair and I argued it with my colleague. I was suddenly fired, but I was reemployed thanks to my colleagues and head coach, assistant coach and student athletes of the American football team who were playing at that time that protested and did a signature collecting campaign. I think that I was able to experience the front and back of the United States. The back part is that there is still a remaining racial discrimination problem. It is the harsh reality of being a minority. However, those painful moments are not as memorable as the "front" part of the United States left in my mind. The coaches and the student players preached my necessity. Colleagues kindly supported me. Friends who have supported me like family, when I was in a situation where I had to return back to Japan when I lost my job temporarily. It was the moment when I realized that I was accepted as an athletic trainer while overcoming the racial barriers in American society. I still remember even now that my best friend, a colleague ATC was impressed and told me that it is amazing that I was able to overturn the situation and come back.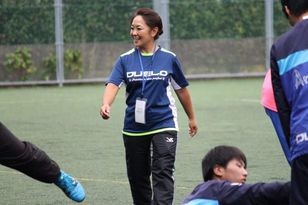 ---Please tell us your daily schedule ---
"I am in charge of health management and rehabilitation and physical conditioning for players at Identity Mirai soccer club team (Tsukuba Mirai city, Ibaraki prefecture) as an exclusive athletic trainer. When I have time, I work as a personal athletic trainer for each customer meaning I teach how to use the body efficiently and functionally by eliminating the troubles of the body. In addition, I teach stretching for elementary/middle school students at the Maruba soccer school once a week, teach physical conditioning for a public high school women's soccer team, and provide guidance for trainers who work for a stretch salon in Tokyo. I am also responsible for this year's FM live broadcast as a personality for 2 hours where I include stories about being an athletic trainer."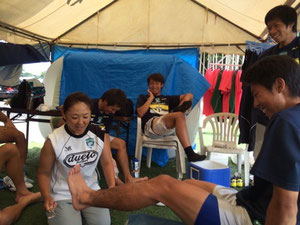 ---Please tell me the flow of the day ---
 "Basically I work at the field of the identity Mirai of Tsukuba Mirai City in the morning and in the evening I am doing personal training, etc."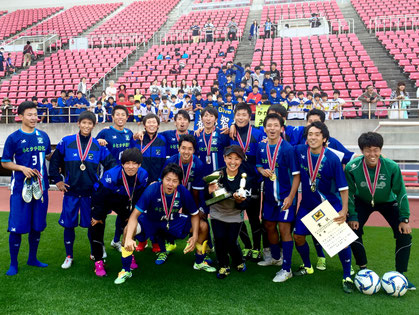 -- For Ichige's JATO and what would exist? - -

"Actually, I participated at a JATO foundation meeting in Orlando, Florida in June 1996 as a student member with two other best friends.  In my fearless school days, the establishment general meeting was out of place for three students. Since then, JATO is the only bridge with Japanese society while I was in the United States and it is like an athletic training room which I can meet with my colleagues and exchange information after returning to Japan when I am working freelance.

--- Please tell us the merit of joining JATO . - -

" Being a member of JATO , an official affiliate of NATA, I can feel familiar and close to NATA and I can get enriched support for qualification (continuing education unit CEU etc) even when I live in Japan. I think that  JATO has made it easier for you to transition to Japanese society (such as job hunting and information exchange) after returning to Japan."

--- Please give a message to students who are aiming for ATC ---

"Information is overflowing now and the athletic training field has been rapidly progressing each day because of research and inventions. I think that it is important to have knowledge and experience to always be able to incorporate correct information. A profession of an athletic trainer is giving significant impact to the athletes or clients who we are facing with, therefore I think that it is important to foster a strong sense of ethics and philosophy in order to maintain a fair attitude. Finally, I also believe that pride as the best athletic trainer, will come by encouraging and studying with passion in any environment.
I will send my favorite words. "Bloom at the place where it is set! " By Watanabe Kazuko"


Ms. Ichigo, thank you very much for taking time for an interview with your busy schedule. The interview made me want to listen to your radio program!*

(* The program name is "Gyugyutto Radio 854" Broadcasters FMUU 85.4 ." It is usually on every 5th Friday 1pm to 3pm ( re-broadcast 8pm to 10pm), but the schedule for broadcast of the end of the year seems to be undecided. Program preview is here http://fmuu.jp.)

Next month, I would like to interview a person who was introduced from Ms. Ichige as "A brilliantly clever athletic trainer who is also a mother and a wife!" Please look forward to it!!