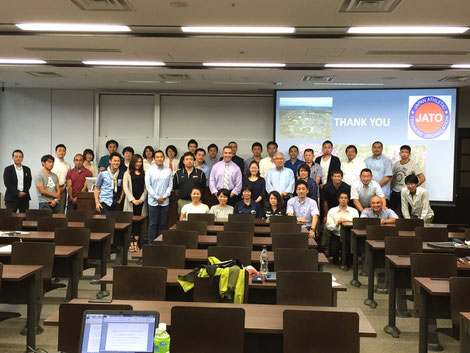 JATO EBP Seminar
ペンシルバニア州立大学キネシオロジー デパートメント教授・アスレティック トレーニング プログラム ディレクターDr. Vairoを招待して、"Current Clinical Outcomes Following Ipsilateral Hamstring Tendons Autograft ACL Reconstruction"(「同側ハムストリング移植腱ACL再建術後の臨床転帰」)と題した第1回のJATO EBPセミナーが開催されました。

講義では、ACL再建術後の可動域、筋力、変形性関節疾患、ハムストリング剛性の変化などに関する短期・長期的な術後成績などについて、文献レビューに基づいたエビデンスが示されました。
一般的に行われている座位のアイソキネティック筋力測定の問題点とそれに変わる代替測定方法、Flexion ROM Lag、膝関節屈筋の深度屈曲位での筋力低下(Deep Flexion strength deficits)、H/Q 筋力比の重要性や、これらとSelf-reported outcome measure(患 者申告型アウトカム評価)との相関など、これまでのACLの術後アスリハに関する講義とは、一線を画す刺激的な講義でした。BOC ATC(全米アスレティックトレーナー協会公認アスレティックトレーナー)の資格更新単位として必須とされているEvidence-Based Practice(EBP・エビデンスに基づいた医療の実践)カテゴリーの正規のカリキュラムとして認証されたものであることが頷ける質の高いものでし た。
Professor Vairo from the Pennsylvania State University came to our very first EBP seminar to give us the thought-provoking lecture on "Current Clinical Outcomes Following Ipsilateral Hamstring Tendons Autograft ACL Reconstruction". It's safe to say this lecture made all attendees realize there is so much out there that we think we know, yet we actually don't know.
We all sincerely thank Dr. Vairo for sharing his insights with us this past weekend!
JATO EBPセミナーは、最新のエビデンスに基づく知見が提供され、スポーツ現場への参考となるだけでなく、教育・研究レベルにおおいに参考となるものです。
Evidence-Based Practice Seminar 7/5
日 時: 7月5日(日) 12:30~16:30  
会 場: 早稲田大学 早稲田キャンパス 3号館305教室
CEU:BOC EBP 3.5
タイトル:同側ハムストリング移植腱ACL再建術後の臨床転帰
"Current Clinical Outcomes Following Ipsilateral Hamstring Tendons Autograft ACL Reconstruction."
講師:Giampietro "John" Luciano Vairo, PhD, ATC. ペンシルバニア州立大学准教授
概要:
本講義では、伝統的にゴールドスタンダードとされてきた膝蓋腱移植を用いたACL再建術を用いた方法との比較から、同側の自家ハムストリング腱を用いたACL再建術の臨床転帰に関するレビューの機会を提供する。この講義で提供される情報をもとに、アスレティックトレーナーは、最良の結果をもたらすために賢明な判断を下し、そしてスポーツ医学において多く起こるこのトピックに関するアスリート教育のために、臨床転帰に影響を与える様々な変数やパラメーターについて理解を深めることができる。

Speaker: Dr. Giampietro "John" Luciano Vairo, ATC
Clinical Assistant Professor. Clinical Education Coordinator, Athletic Training & Sports Medicine, Department of Kinesiology, College of Health and Human Development, The Pennsylvania State University, University Park PA


Course Overview:
The prevalence of anterior cruciate ligament (ACL) injury in young, physically active populations represents a critical area of continued investigation in clinical orthopaedics with implications for preserving knee health-related quality of life (HRQL) and addressing related public health care expenses.  Clinical management of ACL injury is dependent upon various factors with ACL reconstructive surgery representing a typical mode of treatment [1].  The objective of surgical ACL reconstruction is to restore mechanical joint stability as a means to reestablish correct knee function, improve patient self-reported accounts of knee HRQL and prevent associated musculoskeletal sequelae [2].  Use of the ipsilateral hamstring tendons (HT) autograft has recently gained rising popularity among orthopaedic surgeons as a primary selection of harvest tissue for ACL reconstruction [3,4].  Consequently, practitioners may be apprehensive to this trend with concern for sacrificing the agonistic function of the hamstrings to the native ACL based on anecdotal instead of higher quality evidence [5].  Furthermore, noted limitations in public knowledge of ACL reconstruction suggest that educational efforts be employed to better counsel patients under the care of clinicians for ACL injuries [6].  Therefore, the purpose of this continuing education activity is to provide the audience with an overview for current clinical outcomes associated with the ipsilateral HT autograft ACL reconstructive technique compared with the traditionally regarded gold standard bone-patellar tendon-bone method [7].  The information provided will enable athletic trainers to comprehend the numerous variables and parameters effecting clinical outcomes as a means to foster judicious decision-making for facilitating optimal outcomes, and effectively educate physically active patients on this prevalent topic in sports medicine.

Course Objectives:
Attendees will gain deeper understanding of interrelated issues confronting the profession, including:
1.       Explain current surgical concepts related to reconstruction of the anterior cruciate ligament with particular focus on trends in sports medicine.

2.       Outline evidence-based factors to be considered with various modes of anterior cruciate ligament reconstruction.

3.       Identify evidence-based neuromusculoskeletal and self-reported outcomes associated with the two most common related surgical techniques, ipsilateral hamstring tendons autograft and ipsilateral bone-patellar tendon-bone autograft.

4.       Describe associations between objective and subjective clinical measures in related patients, and purported underpinnings for these observations.

5.       Define evidence-based rehabilitation themes for anterior cruciate ligament reconstruction.

6.       Recognize evidence-based metrics and findings associated with return to physical activity and sport.

7.       Explain variables and parameters associated with judiciously recommending methods of anterior cruciate ligament reconstruction for patient care.